[ X ]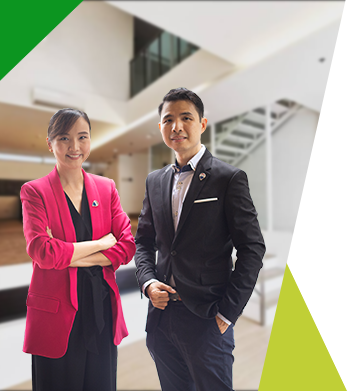 Don't Miss Out on
Exclusive Content

About All Things Real Estate!

Subscribe to our blog for the latest news from your favorite real estate brokers.
Based on 1 reviews

Testimonials
Philippe Lorenzo
2021-08-07
Great assistance from Daphne. Saw to it to get things done and go above and beyond what was required. Really liked that she was very accommodating and reachable. Would definitely recommend their team to others.
John Yu was very efficient & effective in selling our unit in The Hill Townhouse Project located in San Juan City, NCR. Everything went very smoothly and John communicated seamlessly w/ the Buyer & w/ us. We will not not hesitate to use John again as our Broker in the future. Thanks John!
Catherine Caballero
2021-04-03
John and Daphne are the best! From the first time, I reached out to them, they answered immediately and from there on out, they were very responsive. John specifically assisted us with everything. He was thorough, friendly, professional, and great to work with. They were more than helpful in finding us a home. My sister (the owner) is out of the country (OFW who is based in Singapore) when she acquired the property through the help of John. We thought that it will be too stressful to proceed with the purchase since she is not physically here, but we are too lucky to come across with Property Source Ph and get to know Daphne and John Yu. They made our first home buying process a breeze! Daphne and John were extremely honest, upfront, and were able to find us a home that fit right in our price. They are extremely communicative and easy to reach to answer any of our questions at all times even up to today, 2021. Recently, I had to reach out to John for some documents and hoping that he still got them (4 years after we purchased the house) and I was so glad he had it and ready to send it to me that day! What an exceptional service! I'll definitely reach out to the YUs again in the future and I recommend them to all my friends and family! God bless and more power to you and your team!
Our home had very complicated paperwork and it took a lot of time and effort to sell it. It was both a home and a business and was a difficult sell but Daphne and John Yu amidst my skepticism had so many clients come through and see the property. What I appreciated was that they didn't give up and encouraged me that it just needed someone that was the right fit. Both were available, answered very timely and really made effort to negotiate with clients that were making offers. I am most grateful for the way they took my case on, because it was unique and complicated. And the love and care they put into selling the house, I truly can't repay.
If you are new to the property scene, it could be very intimidating. Thankfully, Daphne is there to guide you every step of the way-- from selecting your property, negotiating a fair price, to closing the deal. She is knowledgeable, kind, helpful, patient, and very professional. She is always just a phone call or a message away. What we like best about her is her work ethic and her transparency. She seems to be used to handling difficult situations (as in our case) and she will do important things for you without needing to be told. She works quietly but she will protect you from people who want to take advantage of you (without you even knowing). She is also a great resource for useful, valuable, and practical advice as she has over a decade of experience already. She possesses various qualifications-aside from being a real estate broker. You will be very impressed with her stellar credentials if you can convince her to reveal them to you. We are very happy to work with Daphne and we hope that we can continue doing business with her. She is not just our favorite broker. Now, she is also our trusted ate and friend. If you are still looking for a broker or believe that you deserve a better one, try her. You will not regret it.
Indeed my favorite broker! Daphne is very professional to work with. She is organized, efficient and is always willing to go the extra mile to assist with all my concerns.. an excellent broker with a lot of good listings to choose from.
I met Daph Yu through a common friend, we've been in touch since. Just a few months after, at the height of ECQ (!!) I heard from her on a potential buyer. It was a bit challenging - setting a visit schedule - as our condo was very strict on the number of people allowed in for viewing. But she (along with the potential buyer) were very patient with all the mandated protocols. We saw the deal through with no drama despite closing at the height of the pandemic. It was a delightful experience working with Daph (and John) on the sale of my property. Everything was in order and I did not have to worry about not being in the know of all requirements as these were explained to me in detail by them. I appreciate all the effort put in by Daph (and John) and look forward to working with them again one day! PS - I never thought a property sale could be this stress-free!! Thank you so much Daph and John. And all the best to the new owners of our home!
I very blessed to have worked with highly professional and experienced team of real estate brokers at Property Source PH RE/MAX Capital whose passion is to deliver value every single time. 👌
Tanya Kristina Peralta
2020-09-09
It is a breeze working with Daphne and John. They are also well organized. They understand their clients concerns really well. They are the friendly neighborhood/ family broker you exactly need.
Already had a number of transactions with them. Very responsive, helpful and professional!
Subscribe now to get the latest news in your Email and join
6,530

other subscribers
A convenient way to sell your property.
Complete the form below to list your property.
Find the ideal property tailored to your needs.
Complete the form below to check for available listings.
Find the ideal property tailored to your needs.
Complete the form below to check available listings for lease.