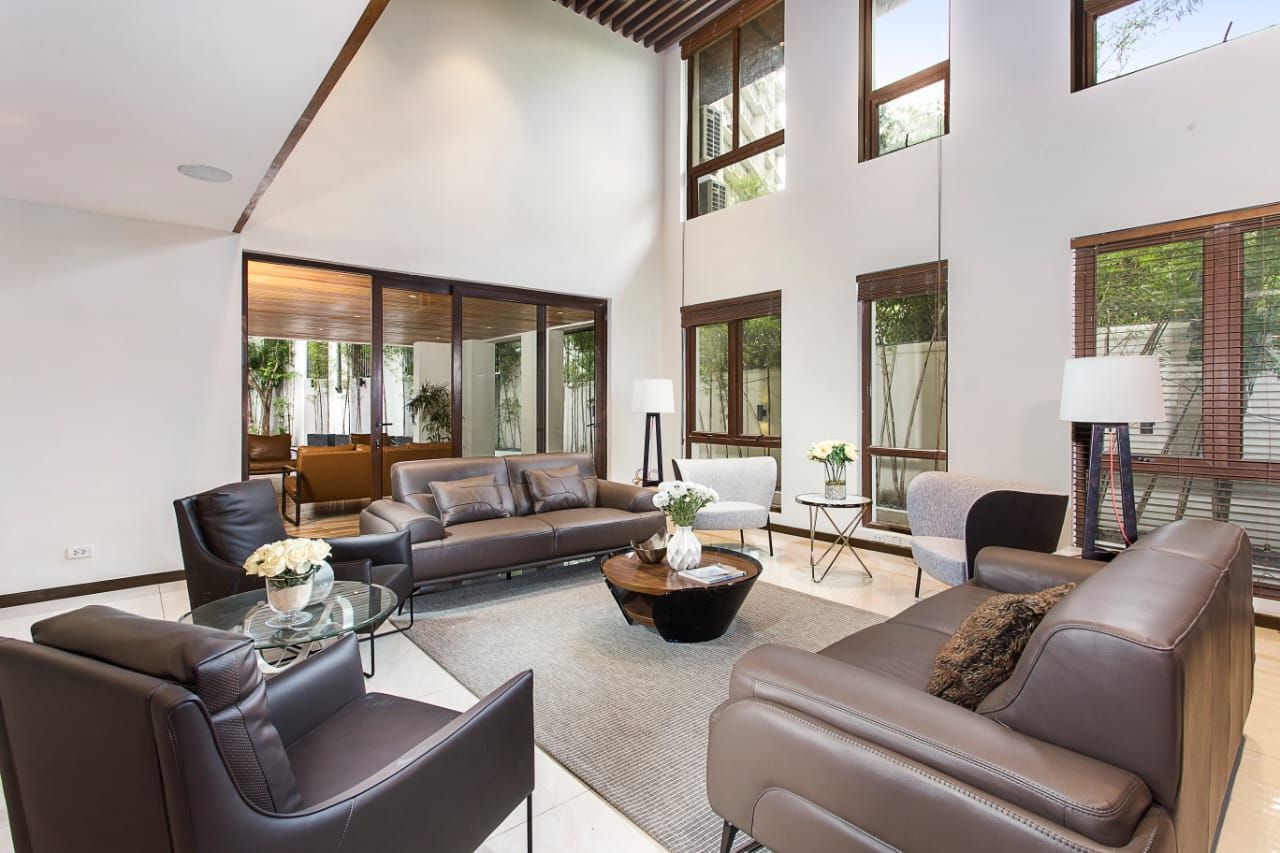 Modern Japanese-Inspired Single-Detached Home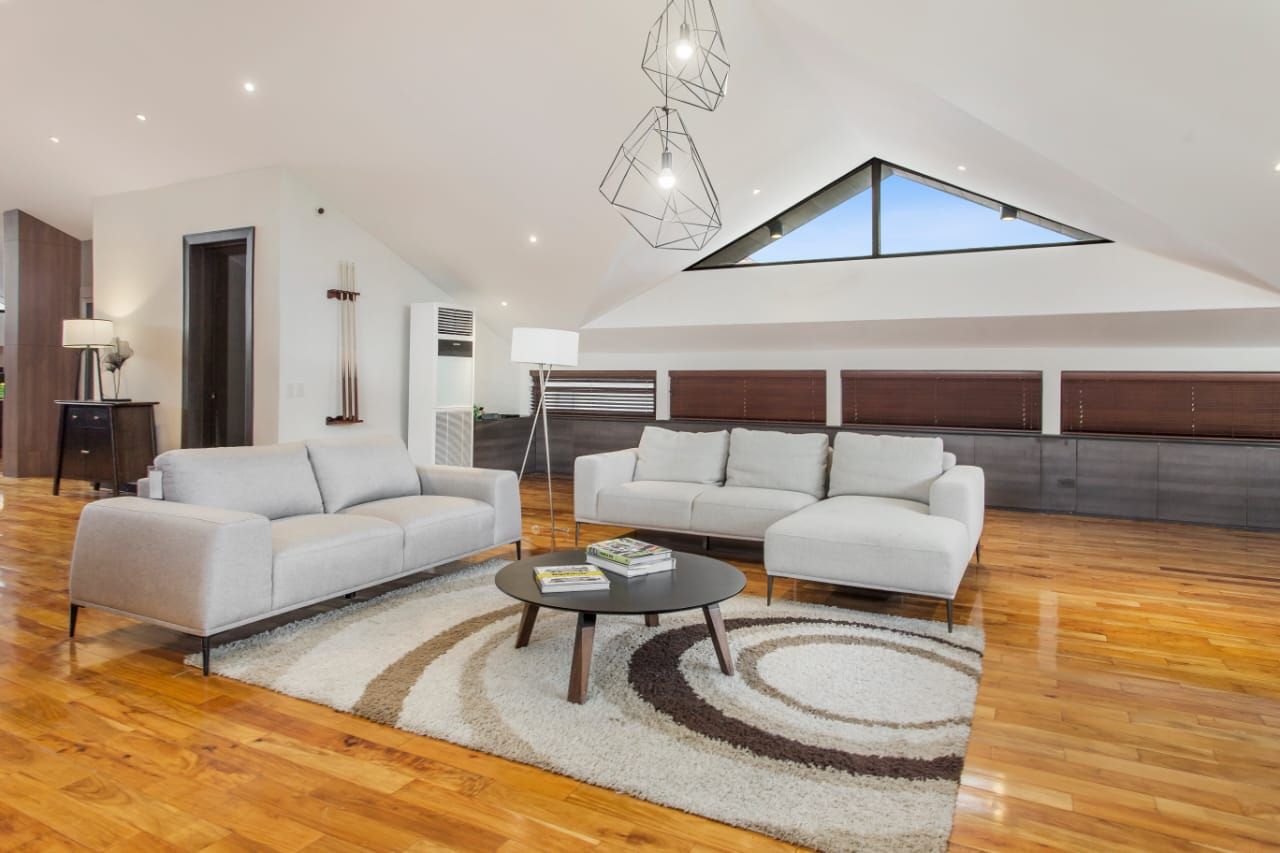 Not knowing where to find the best deals for a North Greenhills San Juan property for sale can seem daunting if you don't know where to begin. But luckily for you, Property Source PH's professional real estate broker John Yu, and Daphne Yu can help you out.
Apart from this stunning Addition Hills San Juan Townhouse for sale in the Philippines, we also offer one beautiful listing in the North Greenhills area. For lovers of Japanese architecture, they'll surely appreciate this modern Japanese-inspired single-detached house.
From the outside, this two-story home just seems to have it all — its traditional, yet minimalistically modern-design is truly a wonder to behold. As you step inside its threshold, you'll immediately feel as if you're transported to the Land of the Rising Sun. Check out this house's features!
2-Story House
This lovely Japanese home is located in the beautiful gated community of North Greenhills. With a lot area of 940 sqm and floor area of 1,400 sqm, this might just be one of the most spacious homes out there.
With this in mind, there's no doubting that is the perfect home for big families. Unlike bungalows, a two-story home is more spacious and offers you just some of the best urban scenic views of North Greenhills.
5-Bedroom
There's definitely no other place to find the best deals for a North Greenhills San Juan property for sale, than this house. Its two-story building is able to house a staggering five spacious bedrooms that have been masterfully designed and built for comfortable living.
Each bedroom features fully-varnished wooden panel floors that just give this house the elusive rustic, yet modern look. One of the master bedrooms in particular, has a sliding door that leads to the balcony — perfect if you want to relax in the morning, afternoon, or in the cool evening, just gazing at the starry skies.
Each bedroom is also well-lit by stylistic recessed lighting as well as traditional wooden-framed windows that can also provide natural ventilation for each quarter. Whether you're part of a nuclear, or extended family, this 5-bedroom home is one of the best investments you'll ever make.
6-Bathroom
Still can't imagine the enormity and magnificence of this house? What if we tell you about its 6 bathrooms? Every bathroom seems to have come straight out of an interior design magazine, with each of them just as beautiful than the last.
One of the bathrooms in particular, features a vanity mirror that can easily accommodate two people. The bathroom countertop comes pre-furnished with white, elegant undermount sinks. All supported by built-in, flat-style, dark wooden cabinets where you can store and organize your toiletries.
The shower areas are also certainly to die for. If you've always dreamed of glass shower rooms accompanied by a white, luxurious bathtub, then this is just the house you're looking for.
Family Hall
After a long day at work, you just simply want to unwind and relax in your home while taking in the grandeur of its architecture. Much like our Valle Verde Pasig house for sale, this is definitely the experience you'll get with this property's modernist living room with a high ceiling that just works well to give height to this area.
You can come up with your own set of fixtures to accommodate the living room. If you're not really a fan of the classic standalone leather sofa, you can add any style you want — be it modular, wooden, or high-back.
The family hall is also neatly separated from the other areas in the ground floor, with classic wooden dividers that fit with the entire aesthetic of the house.
Maid's & Driver's Quarters
You might be asking yourself where to find the best deals for a North Greenhills San Juan property for sale that has a maid's quarters. Not all properties for sale in this area of Metro Manila have a room solely dedicated to housekeepers. Likewise, spending more money just to add another area for an already-existing home might not really be a practical option.
However, this Japanese-style house already comes with its own space for the housekeepers, which also has a bathroom that's just the right size. The room is well-ventilated so the housekeepers don't have to experience sweltering heat during the summer, and unbearable cold in the rainy season.
The driver's quarters also doesn't disappoint. Located at a detached area of the house, this room can provide the family driver with the adequate rest and relaxation they need before starting off another day.
Features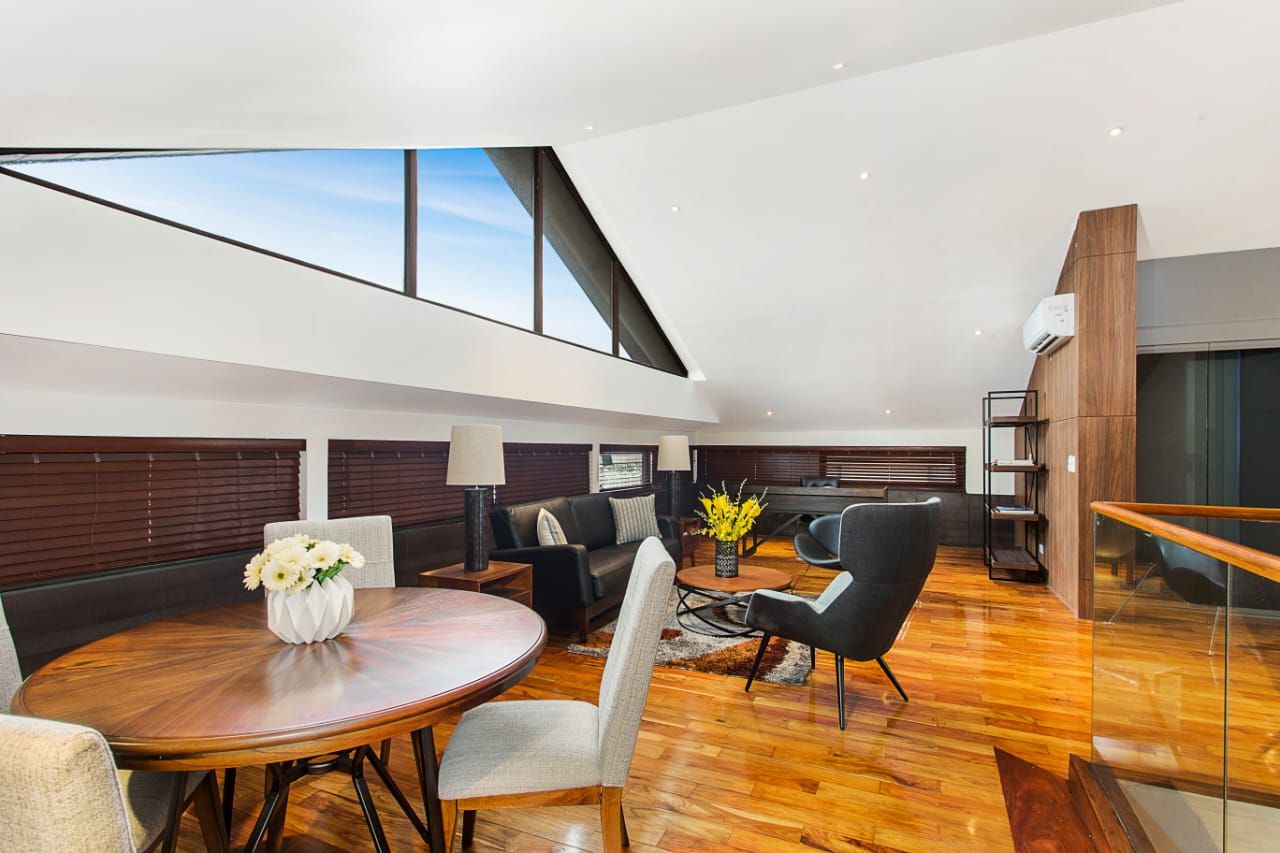 If you look up "Where to find the best deals for a North Greenhills San Juan property for sale" it's likely that this house is one of the first properties that will catch your attention.
Apart from its already extraordinary living spaces, it also boasts some of the most unique and state-of-the-art features. Guaranteed, that this is the only luxury home in the San Juan vicinity that can say it's living up to the expectations people have when it comes to modern living.
You'll be pleased to find that further beyond the house's awe-inspiring exteriors, you'll find an attic that's just as impressive. This part of the house is where you'll find a dedicated entertainment area, library, and a bar.
Impressed yet? Wait till you find out that this house also features its own swimming pool & wading area, koi garden, and barbecue area — all located at detached areas from the main building.
Entertainment Area
The entertainment area is where the fun begins. Although the living room might already do well to help you relax, there's nothing like spending a few moments of bonding with the entire family.
Here you can watch movies, chill to some music, or even play video games, granted that you have your own entertainment system. In many ways, this is like the house's recreational space where you can do just about anything. This is ultimately the place you'll go to if you want to be free from the distractions of the outside world, even for just a few hours.
Library
If you ask someone else where to find the best deals for a North Greenhills San Juan property for sale, chances are, they won't really point you in the direction of a luxury home that also has a library.
Yes, this house just seems to have it all, doesn't it? Located at the attic floor, the library is a quaint, yet lovely space where bookworms can comfortably read a magazine or their favorite pocket book.
The library is beautifully-lit by a large, triangular-shaped attic window that just looms large over everyone staying in the area. This is undoubtedly one of the most relaxing parts of the home, as you can also catch a few minutes of just reading, while also sipping your favorite cup of coffee at the rounded wooden table situated nearby.
Bar
Unless your kids are of age, then you may want to keep the bar quietly hidden for you and your partner. Like the entertainment room and the library, you could also find yourself relaxing at the bar area with your favorite glass of red wine, whiskey, brandy, or what have you.
The bar is the perfect place to set up a mini-house party. Invite all your friends, play some loud music, let the drinks pour, and most importantly, have some fun.
Swimming Pool
While you're at it, why not set up a pool party? But if you prefer the quieter alternative — just you, your partner, and the kids enjoying a chilling afternoon amidst the scorching heat — then the swimming pool is the best location to do it.
As said before, this pool is located just a few steps away from the building. It can be accessed through the sliding doors located right in front of the dining room for you and your family's convenience.
Right next to the swimming pool is a wading area that's amply shaded by trees and a patio umbrella that you can customize. This is where you can go to rest for a few minutes, eat snacks, or just sit down at the chaise lounge, right after doing quick laps around the pool.
Koi Garden
It may be high time to stop your search for where to find the best deals for a North Greenhills San Juan property for sale because this house just seems to best all the rest of the dwelling spaces out there.
Of course, we're talking about one of the most essential features of Japanese-inspired living. A Japanese-style house wouldn't be complete with its own koi garden. This area in the house is where nature and modernity beautifully clash to create a microcosm that no other property in the vicinity can boast.
For lovers of aquatic animals, the koi garden makes the best place to raise and grow their own koi fish, or other fish as well. Now's your chance to create a picturesque and Instagram-worthy landscape for your house's outdoor areas.
Barbeque Garden
Setting up your own Friday or Saturday night barbeque has finally never been easier with the house's built-in barbeque area located outdoors.
The outdoors is always the most appropriate space to have a grilled food cookout. Nothing beats the feeling of eating delicious, home-grilled meals, drinking your favorite beer, and surrounded by your closest friends and family.
Miscellaneous Additions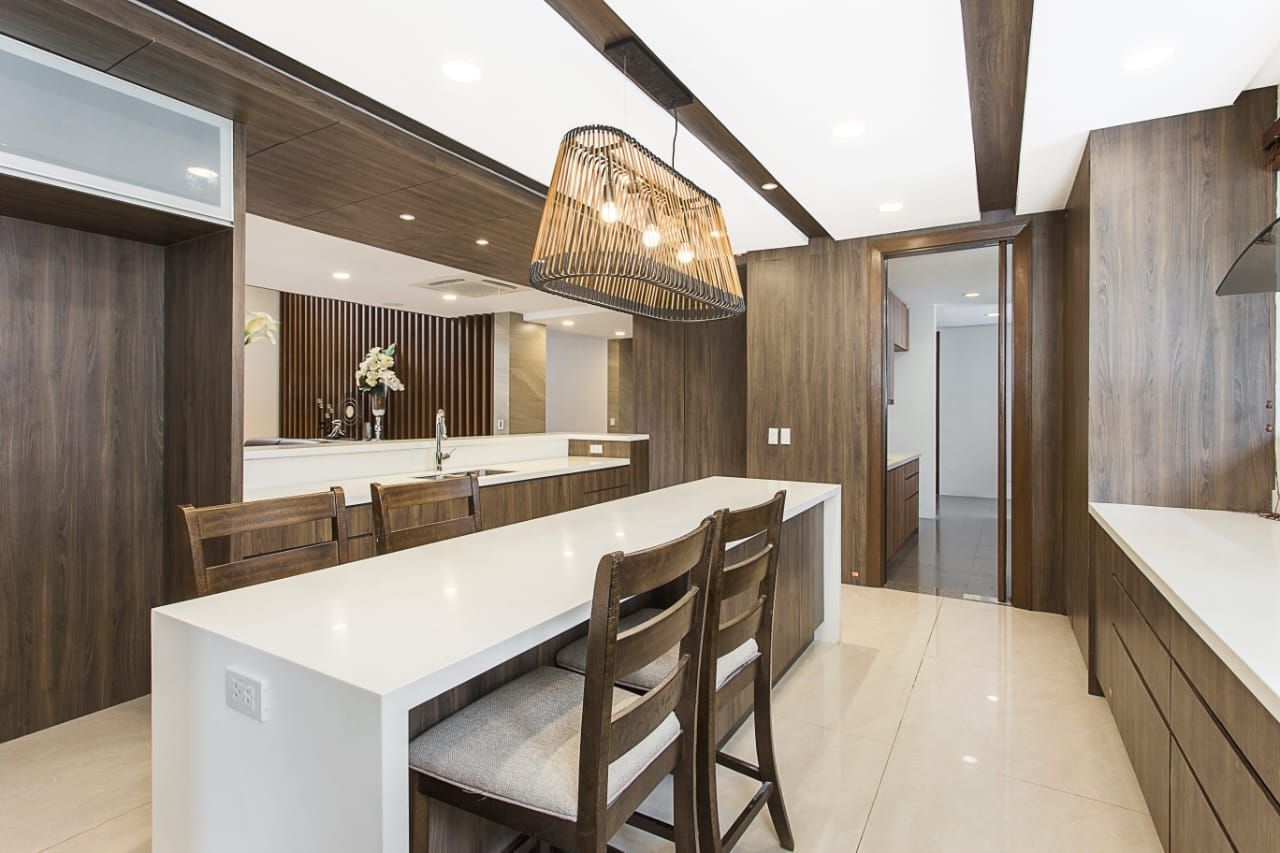 It's not easy figuring out what type of home to buy if you have specific tastes. What we're alluding to are several nifty additions, such as solar power, remote-controlled electronics, and Swedish elevators.
Too specific, you say? It's because this house is arguably the only property that has all of these features mentioned! Sustainable, high-tech, and luxe — an all-in-one package, fit for an amazing home.
Swedish Elevators
If you're wondering how to navigate such a vast home, then we have three words for you — elevators from Sweden.
That's right! Going from floor to floor has never been more convenient with these durable elevators that come with the house when you buy it. The elevators serve not only to transport you from the different levels, but also to increase the overall aesthetic appeal of this modern home.
The elevators can also help you more conveniently move large objects around the house, compared to the stairs. You'll never have to strain yourself again while trying to lug a 65-inch TV or any large equipment into your bedroom — take the elevators! It's so much easier.
Solar Power
For all this home's luxury, it certainly doesn't fall short of sustainability. The roof in particular, is lined with solar panels — something that every sustainable home desires to achieve.
With solar power, you'll have the chance to considerably lower the house's power consumption. More than that however, the panels also act as shade and insulation to help you beat the heat during the hot summer periods in the Philippines.
Remote-Controlled Electronics
As mentioned before, this high-tech house is one of a kind. Aside from its solar-powered features, it also prides itself in incorporating the latest smart technology in the market. Its remote-controlled lights, air conditioning units, and piped-in music provide you and your family members with the maximum comfort and accessibility.
If in the past, you've had to manually walk up to every switch just to turn off the lights, this home makes it easier. By a push of a button, you can brighten up any space, whether it be the living room, dining room, or the bedroom. Why don't you turn on the A/C and blast your favorite music while you're at it? It now just takes a few simply clicks.
Don't Know Where To Find The Best Deals For A North Greenhills San Juan Property For Sale? Property Source PH Can Help You Out!
By now, you probably have an answer to your question: "Where to find the best deals for a North Greenhills San Juan property for sale?"
This beloved Japanese-inspired house has simply everything you want in a modern home. Its exteriors and interiors are able to execute a unique contemporary-traditionalist design that's eluded other homes in the city — and for a price, you can finally call it your home!
Curious to learn more about this property? Your favorite licensed real estate brokers John Yu and Daphne Yu are ready to accommodate any inquiries you have.
Click here to learn more about the house.