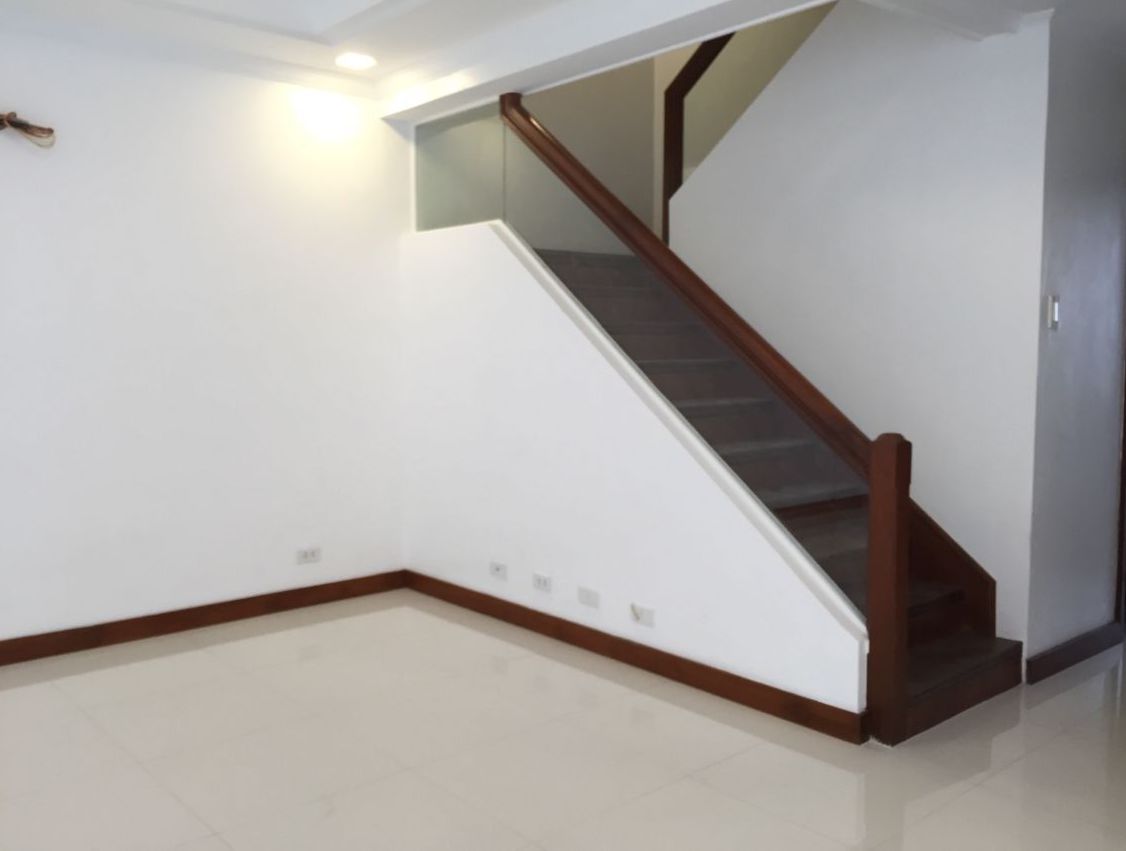 If you're looking for the perfect location to reside in, Pasig City is the place to be. Different entertainment spots and restaurants can be found in this city. If you're a food lover, the Kapitolyo area offers good food and comfortable vibes. Let's not forget that convenience is all around! You'll find everything here — transportation, malls, banks, schools, and more! A Valle Verde Pasig house for sale is your ticket to being a legitimate Pasigueno. Valle Verde 6 is a housing complex located in Eulogio Rodriguez Jr. Ave, Pasig, Metro Manila. We have 2 Valle Verde houses below for you. Interested? Read on!
Valle Verde 6 Townhouse: 3 Bedrooms

   

  
                                         
Property Area
This beautiful Valle Verde townhouse holds a 100 square meter lot area and 190 square meter floor area. The floor area is almost as big as a tennis court! It has plenty of space for a regular-sized family to customize and enjoy. This property provides plenty of rooms to fit your needs. All of the bedrooms have their very own bathroom. Another notable feature is its 2-car garage. Other additional features include a powder room and a maid's room! Sounds nice, right? We'll go in-depth about these features below.
Renovated Unit
There's nothing better than a fresh, newly built house. Well, that's what you are getting in our Valle Verde Pasig house for sale! Come see this newly renovated unit. Save the effort of customizing, because we already did it for you. You are given upgraded and improved amenities that will last a long time and newly painted walls that offer a very clean and luxurious look.
3 Bedrooms With Bathrooms
This townhouse offers a lot of bedrooms that you can customize to your liking. If you are a couple, you can finally have that master's bedroom you've always been dreaming of.  Have kids? They can have a room to themselves. You can also put up your own home office! The opportunities are endless.
The rooms have clean white walls and light brown floors — perfect for that modern look. It can complement a wide range of colors for your furniture. You will also have a built-in clothing cabinet with a large mirror.
Plus, each bedroom has its bathroom! You don't have to share your personal space with other family members. These en-suite bathrooms offers much privacy — a luxury that not everyone can have.
2 car garage
In the Philippines, not all houses get to have their own parking space. Imagine having two! You don't have to park your car outside and risk its safety. You can park 2 cars at the same time or only park 1 and use the remaining space for other things — a working station, crafting space,  indoor garden,  take your pick!
Powder Room
When you buy this Valle Verde Pasig house for sale, entertaining guests would be much easier. With a powder room, guests won't have to go through your bedroom to reach a bathroom. You would be able to accommodate them while also maintaining your privacy.
Maid's Room With Bathroom
A "kasambahay" is a very reliable and helpful part of a family in the Filipino culture. Having a maid's room with an en-suite bathroom ensures that your housekeeper is well-rested and satisfied. It can also be customized for other uses if you want. Either way, an extra room with its own bath will provide more space for your needs.
Valle Verde 6 Townhouse: 5 bedrooms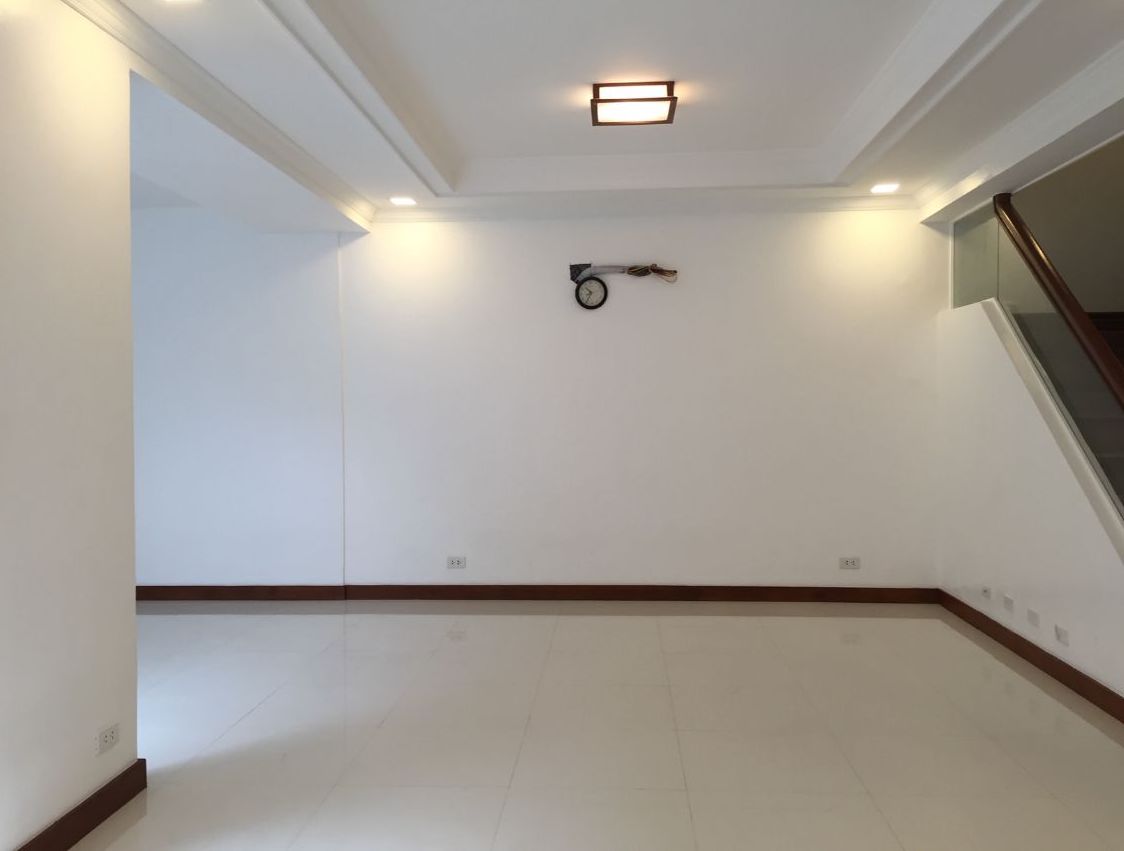 Property Area
Our second Valle Verde Pasig house for sale is perfect for large families. It features a lot area of 88 square meters and a floor area of 249 square meters. Wondering why the floor area is bigger than the lot area? That is because the lot area is the measurement of the whole lot from its boundaries, while the floor area is the total living space available. This is possible because this Valle Verde house is a 3 story-unit that offers plenty of space for a family. The floor area is almost triple the lot area. Talk about value!
Renovated Unit
The house exudes a contemporary modern style with  minimalistic white walls and flooring. Its simplicity makes it look bright and clean. The brown accent in the rooms add a hint of color that ties the room together. Much like the other unit, this townhouse will save you time, effort, and money to customize your house. It is practically a brand-new house. With this newly renovated unit, you don't have to worry about a thing. You only need to move in and you're set.
5 bedrooms
It is beneficial to have more rooms, especially if you have a growing family. An additional room for an incoming baby or a visiting relative can prove useful when the time comes. These rooms can also be utilized for other things. It may be labeled as bedrooms but you can always get creative and transform them into other spaces! These rooms can be utilized as an entertainment room, hobby room, a wardrobe, a walk-in closet — the possibilities are endless.
3 bathrooms
With a townhouse with so many rooms, a lot of bathrooms are also expected. The bathrooms also have a pristine design with white tiles, toilets, and sinks. A glass partition for the shower is also a beautiful and functional This contributes to the minimalistic contemporary design of the house.
2 car garage
A car garage will provide safety and security to your car as opposed to parking outside. It can also serve as an extra space for other activities. Aside from crafting and gardening, a garage can also serve as extra storage for tools and equipment.  A home gym can also be an option.
Powder Room
With an extra powder room in addition to the 3 bathrooms in this house, this ensures that everyone can take care of their business anytime. You don't have to wait for each other to finish. A powder room also serves as a quick easy-access in those times of need.
Maid's Room With Bathroom
Just like the previous house, a maid's room with a bathroom is also available in this townhouse. It is a space that can be used not just by a maid, but also by other house help. You can give them the comfort that they deserve!
Pocket Lanai
A pocket lanai is a space that can be utilized for many different things! It can be a space for a small garden or a yoga venue. Whatever it is, it is important to enjoy your private time here as lanais are made for sitting back and enjoying life.
Are You Looking For A Valle Verde Pasig House For Sale? Schedule An Appointment With Property Source PH Today!
Liked the townhouses we stated above? If you are looking for a Valle Verde Pasig house for sale, we can help you schedule an appointment. Professional real estate brokers John Yu and Daphne Yu can assist you with your needs and find you the perfect house of your dreams. Open to other locations? We've got you! We've got a superb Addition Hills San Juan townhouse for sale Philippines. We're also the go-to for individuals who are searching for where to find the best deals for a North Greenhills San Juan property for sale. Let us help you find the home of your dreams!
Contact us here at Property Source PH for all your real estate needs.