Property Forecast in the Time of COVID-19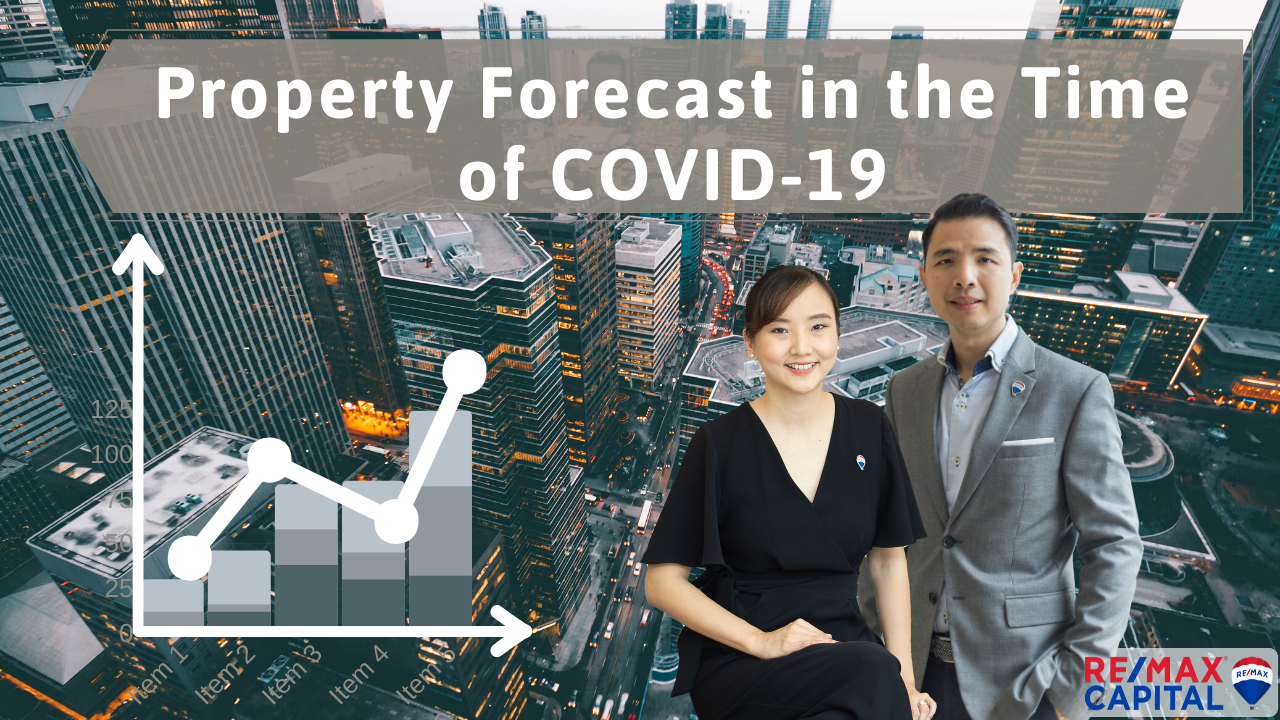 By: Daphne V. Yu, April 8, 2020
Over the past four weeks, clients and friends have been calling us to ask how the real estate market is affected by the corona virus pandemic and the Enhanced Community Quarantine ("ECQ"). We can only speak from our personal experience and these are the new normal from our side of the business:
Sale transactions that are under contract are paused until ECQ is lifted (ie. Full payment can only be done after ECQ)
Buyers have called if there are "good deals" coming into the market
Buyers and Lessees have been browsing online and called to schedule property showings (after the lockdown) so they hit the ground running (there are still clients needing to move houses even during this time). One particular Lessee has been needing to move but the property is inside a gated compound and would not allow move-in's during the ECQ.
Some sellers have adjusted their selling price to move their properties quicker.
Existing Lessees have requested for Lessors to delay depositing the rental payment checks; some have requested for discounts as well.
In general, activities outside the home have been on a stand still since we prioritize safety and we need to #stayhome, but sellers and buyers continue to do their property research via online and equipping themselves with market knowledge and relevant updates.
As such, we would like to give you an overview of the real estate market as of Q1 2020 and 2020 forecast based on the reports provided by Colliers International and Leechiu Property Consultants.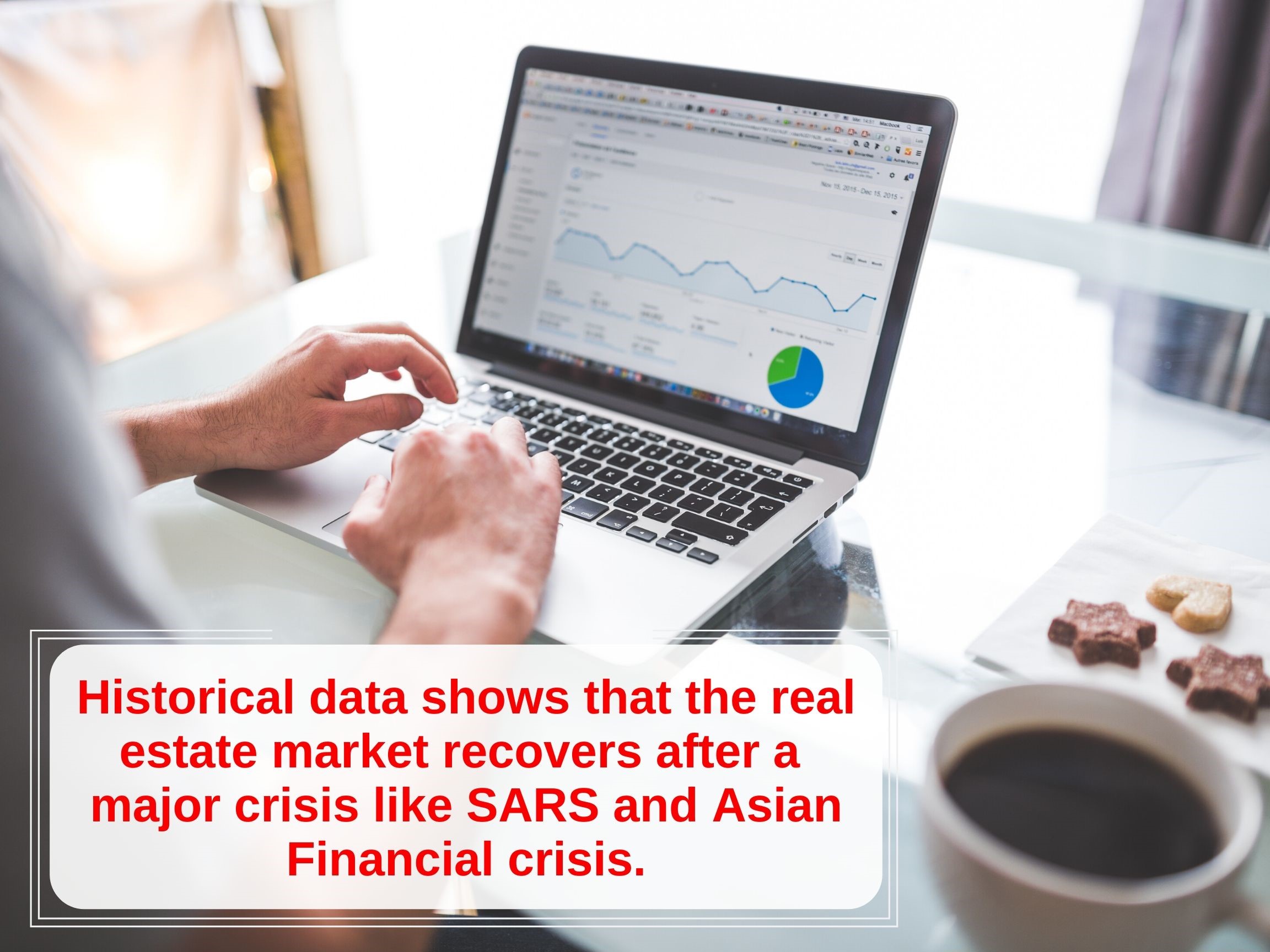 On GDP 2020 Growth & Real Estate:
1. GDP 2020 Growth forecast were all adjusted by agencies such as World Bank, Moody's Analytics, Fitch Solutions, Oxford Economics, and S&P. From a range of 5.8% – 6.7% forecast, it is now at 3.0% to 4.9%.[1] Other agencies such as Capital Economics, Fitch Solutions, ADB, NEDA, are projecting -0.6% to 4%. [2]
Q1 2020 has been affected by both internal and external risk events such as US-Iran tension, Brexit, US-China trade issues, Taal volcano eruption, POGO sector crackdown in select cities, PH-US relations on Visiting Forces Agreement (VFA) and the COVID-19 pandemic. [3]
The fact that there's still a flat to slight positive growth projection despite the corona virus pandemic is something to be hopeful for given the gravity of the situation.
2. Based on a 25-year history from 1995 (Ramos administration) until the present time, property prices have steadily moved upward. Though it was co-relatedly impacted when there were global crises (ie. Asian Financial Crisis in 2008, SARS in 2003), it has shown to recover and continue its upward trend even when there were other drastic dips in the economy. [1]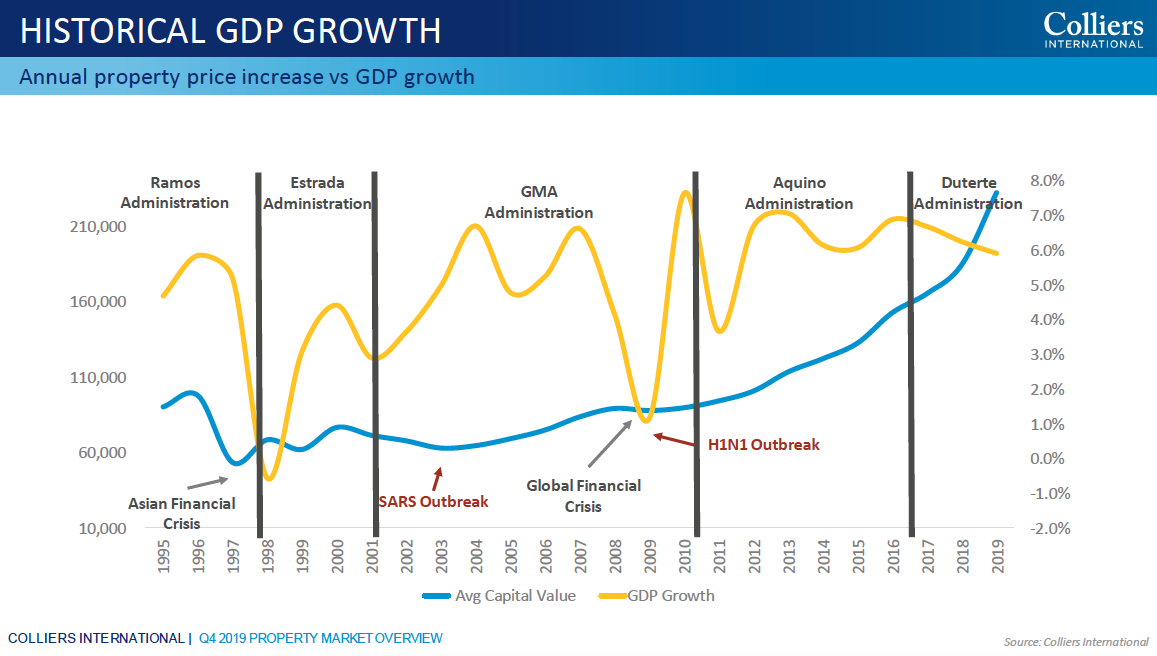 The Silver lining:
Once ECQ is lifted, the 9 major government infrastructure projects on the BUILD BUILD BUILD program will proceed and will be scheduled for completion within the next 18 months, thereby accelerating economic productivity and development. [3]
According to Worldometer, the "worst is over" in countries like China and South Korea. It seems that the "peak" for combined global cases was on April 3, 2020. For the Philippines, peak record was on March 13, 2020.
OFFICE SECTOR
3. According to Leechiu Property Consultants, there were already over 157,000 square meters of office space transactions in Q1 2020, and around 636,000 square meters of live requirements throughout the year, which will most likely start in Q3 2020. Of this total live requirement, 28% is coming from the POGO industry while 30% from IT-BPM industry.
4. The POGO/Gaming industry's contribution in the office segment grew from 21% to 37% from 2018 to 2019. Since almost 40% of office segment is the POGO industry, the vacancy projection is forecasted to increase to between 8-10% from 4.3% in 2019. This is with the assumption that POGO will not take up the initially forecasted space in 2020 due to the travel ban due to Covid19. [1] However, this segment is expected to bounce back in 2nd half of the year once ECQ is lifted.
5. If POGO demand drops, average rental rates may soften (especially in areas where the market is mostly POGOs, ie. Bay area) since rental rates are usually higher by 30% for POGO vs. traditional/local firms. [1]
6. There's set to be 1,000,000 square meters of space completed in 2020 but since all construction work has stopped from March 2020 until April 2020 (and possibly extend to May 2020 and June 2020), it is expected that the office supply in 2020 will reduced by 44% according to Leechiu.  Given this amidst the concerns of an oversupply for 2020, the pandemic will offset the slowdown of office leasing transactions and thereby reducing office vacancies to manageable levels by end 2020. [3]
7. Of the 7.3M square meters supply of PEZA-accredited offices, the vacancy rate is only 3.7% across 77 buildings. [3]

Key Takeaways for Office Landlords:
If your building isn't PEZA-accredited yet, apply for one to cater to more IT-BPM companies
Target "epidemic-resistant" businesses like pharmaceuticals, basic goods (food and beverage), agriculture, technology, key service providers (telecomm, delivery services, courier)
Keep existing tenants by offering flexible terms and special considerations during this season
Key Takeaways for Office Tenants:
Due to expected higher vacancies, you have the opportunity to get a better rate and negotiate for longer lease term.
Revisit business model if a physical office is truly needed or virtual set-ups can be explored to increase efficiency and manage overall cost efficiency.
RESIDENTIAL SEGMENT
Among the expected new supply in 2020, 79% comes from Bay area, 12% from Fort Bonifacio Global City, while balance inventory from Makati/Ortigas/Alabang. [1]
If POGO market doesn't take up the projected space, vacancy rate may rise to as high as 19% from 10%. Since the Bay area has mainly relied on the POGO chinese market, rental will be a challenge if travel is still constricted. Resale of the turned over units will also be a challenge since main market is POGO who cannot be in the country until the pandemic completely ends. [1]
Key takeaways for Sellers/Developers/Lessors:
Need to offer adjusted prices and payment terms to attract buyers
Flexibility is required given the situation
Prevent existing tenants from shifting to another property upon end of lease
Keep buyers-in-contract (those who have given earnest money/reservation deposit) from backing out

Key takeaways for Buyers/Lessees:
Situation has shifted the dynamics into a buyer's/lessee's market
Opportunity to discuss terms and options
Bank loan interest rates may adjust lower to encourage spending and movement in the economy
Opportunity to Look for properties being sold by distressed sellers
Turnover commitments by developers may most likely be delayed due to the work stoppage so contact them and ask for postponement in payments. Note: Each developer would have their own policies regarding this and will vary from one to another.
This article is published on 08 April 2020 and details above may change based on current affairs and updates provided by the government.
The key take-aways are only personal opinions based on experience and market data. However, if you have any further questions about real estate and the market, feel free to contact your favorite brokers, John & Daphne at 09178274018 and we will do our best to help. Take care and stay safe!
To receive regular property updates and listings before they hit the market, please Follow us on our Facebook Page PROPERTY SOURCE PH and Instagram @PropertySource.RemaxCapital , Youtube Channel PROPERTY SOURCE PH .
#stayhome #fightcoronavirus #covid19 #inthistogether #TheYus #luxuryrealestate #realestate #realtor #realtorlife #weareremax #weareremaxcapital #properties #quarantine.
1 Colliers International Property Market Overview
2 COL Financial Webinar Series
3 LEECHIU Property Consultants Q1 Media Briefing
---
Daphne Yu is a PRC licensed real estate broker since 2011 and covers a wealth of industry experience most notably from property developer project based selling for the international market as well as the real estate brokerage markets serving the commercial and residential segments in Makati, BGC, San Juan and Quezon City areas. Daphne is married and has 3 kids, the #YUTRIPLETS.
Contact us